Dear friends,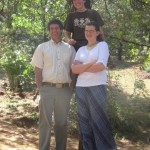 Thank you for supporting me in my missions trip to Mexico with a team from RIT's InterVarsity Christian Fellowship. We praise God for our safe travel to and from Mexico, a good, productive week of work there, and the fun experiences we had sightseeing. Thanks to your prayers, we were able to raise enough money to cover our expenses and donate a good amount to the Caldwells' ministry.
David Caldwell founded Camps International to facilitate planting kids camps in various countries and staffing them with nationals to carry on the ministry. They currently have one such ministry called RYCCA (pronounced ree-kuh) located in central Mexico, though there are possibilities in the work for starting camps elsewhere in the world. In Mexico they are building a prototype camp, where they can experiment with how to build camps as well as how to run them effectively. This experience will then be used to jump-start other camps in the future.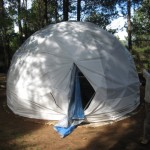 The camp in Mexico is located near Morelia and is named Los Domos, owing to the dome-shaped construction style they've adopted. David and Karen Caldwell and three of their children currently live on-site in several concrete domes that they've built over the past several years. They are currently in the process of building cabins for the campers in the form of steel geodesic domes with a white plastic covering. Inside they plan to build bunks that are suspended from the steel structure with cables. Completing these domes will allow them to begin hosting regular camp events.
I first got to know the Caldwells on the internet about four years ago through a web site about the Christian radio drama Adventures in Odyssey, through which I met their daughter Cherith. I met David Caldwell in person two years later, who encouraged me to bring a team down to help them out. As a result, in 2009 I gathered a group of four other RIT students who I knew through InterVarsity Christian Fellowship, and we traveled to Mexico to put our technical skills to work. In that week of spring break we designed new web and print materials, improved their web site and computers, and planned some camp activities.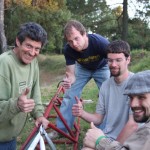 This year I rounded up a new group to continue the work. I returned for a second year, as did Harry, a mechanical engineering student. New this year were Mike, an electrical engineering grad student, and Tyler, an information technology sophomore. The fifth member of our team was Kyle, another computer expert who in fact is not an RIT student but instead knows both Cherith and I through the internet and wanted to help out.
Our trip started out with an unexpected adventure, when our Friday morning flight from Buffalo to Newark was canceled due to a snowstorm. Once we managed to contact the airline, we learned that our options were either to wait until the next open flight on Tuesday or to fly out of Cleveland on Saturday. We chose the latter option, and later that day spent 6 snowy hours making the nominally 4-hour drive. After staying overnight in a hotel, it was smooth flying to Houston and then to Morelia, Mexico.
While the camp is located out in the middle of nowhere and lacks standard power and communication, the Caldwells have an apartment in the town of Acuitzio del Canje, where they lived before the camp was habitable. This is where we did most of our work, because there we can plug in our laptops and get Internet access (albeit slowly compared to home). Using the money we raised, we had purchased a laptop and some networking equipment and brought it with us to donate to the ministry. Tyler, Kyle, and I were the computer experts, so one of our projects was to run cables through the apartment to improve their computer network.

With that done, we moved on to a bigger project, in which we attempted to get internet access at the camp. This would allow the Caldwells to have more direct communication with the outside world, so they wouldn't have to drive 45 minutes to the apartment to exchange e-mails. A friend of theirs lives two miles away and gets internet access from Morelia via a microwave antenna on a tower. Our goal was to install another antenna on that tower that would connect to a tower David built at the camp.
After scouting the tower site on our first visit, David, Tyler, and I returned with all the equipment we needed to set up the connection. I was chosen to climb the tower, since I'm not afraid of heights (and I'm already pretty tall). I got my harness on and then climbed the 100 feet to the top, where I clipped myself onto the tower so I could work with both hands. David and Tyler sent up the radio box and the antenna with ropes, and I set to work bolting them to the tower and hooking everything up. I found that working on top of a tower is more difficult than it would be on the ground, due to the limited space and the need to attach everything to the tower somehow, even the nuts, bolts, and tools I used. Two and a half hours later I completed the job and climbed down with a mild sunburn (but not before taking a 360 degree panoramic picture of the view from the top).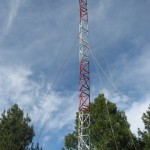 The next day we went to the camp to set up the other end of the connection. David had already built a 40-foot tower using the same steel tubes as the geodesic dome, but it needed to be taller for the signal to clear the terrain, so we took the tower down, attached another section, and raised it back up. I climbed up and attached the radio and antenna that were the counterpart to what I installed on the other tower. Unfortunately, we weren't able to get the radio signal to reach from one tower to the other, so we had to leave without seeing the task completed. However, a month later one of David's friends was able to make some adjustments which allowed the radio to work. The Caldwells now have internet access at the camp, which will allow them to conduct business and keep in touch more easily.
The internet tower was the biggest of our projects, but we also accomplished several other tasks. Harry and Mike worked on curriculum for use during camps, creating materials such as daily devotions to help the kids understand the Bible. Kyle worked on creating software that makes it easier to keep track of ministry supporters and keep everyone up to date on the happenings in Mexico.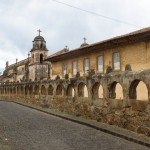 On our last day in Mexico, we drove out to Pátzcuaro, a nearby town popular with tourists. There were numerous vendors of hand-made trinkets, clothing, and many other items, as well as a large open food market. For lunch we had real Mexican tacos, followed by ice cream in many different flavors. It was a good way to end our time in Mexico.
We all enjoyed our visit to Mexico, and David was very appreciative of all the things we accomplished. I'm graduating from RIT this year, but I hope to return to Mexico again, quite possibly next year with another group from RIT. In the meantime, I intend to post more stories and pictures from Mexico on this blog.
If you are interested in hearing more about what the Caldwells are doing, you can go to their web site, campsinternational.org. Thank you again for your support in this endeavor.
Tim Peterson